Boston Pops Holiday Concert at Lowell Memorial Auditorium on December 14 at 2 p.m. (Up to 51% Off)
$46.00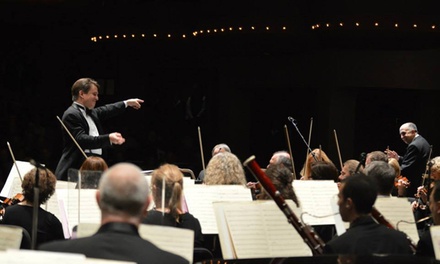 Value

$93.75
Discount

51%
Deal Ends: 11/29/2014
at midnight
Contact Info:
http://www.lowellauditorium.com
Lowell Memorial Auditorium
50 E Merrimack St.
Lowell,Massachusetts
01852
Here's what's up:
Music is something that only humans make, unless you count the racket birds try to pass off as song. Hear the real stuff with this GrouponLive deal.
The Deal
$46 for one ticket to see the Boston Pops Holiday Concert (up to $93.75 value)
When: Sunday, December 14, at 2 p.m.
Where: Lowell Memorial Auditorium
Section: balcony
Door time: 1 p.m.
Ticket values include all fees.
Boston Pops Holiday Concert
A tradition as holly-jolly as hanging stockings above the fireplace or covering your roof with reindeer food, the Boston Pops' holiday concert first began in 1973, when it was called A Pops Christmas Party. Conductor Keith Lockhart and the world-famous orchestra carry on the cheer by playing their way through another year of pop and classical holiday favorites, including their interpretation of "Sleigh Ride." New arrangements of seasonal tunes dot the program, but the finale—an appearance by the big man in red followed by a sing-a-long—is as traditional and cheery as it gets.
Join the FullDorm Team
We are always on the lookout for campus reps who share the same passion for sales, marketing, and business development as our entire team. We value every member of our team and compensate them accordingly.
Feature Your Business
If you have a product or service that you would like to offer as a Dorm Deal...
Other Great Deals Worth a Look: