BYOB Island Picnic to Spectacle Island for 2, 4, 6, 12, or 24 from Boston Harbor Shuttle (Up to 65% Off)
$59.00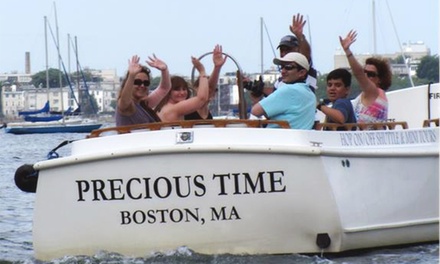 Value

$120.00
Discount

51%
Deal Ends: 04/23/2014
at midnight
Contact Info:
http://www.bostonharborshuttle.com
Fan Pier
Boston,Massachusetts
02210
Here's what's up:
Some things are just more fun when done on a boat, such as partying with friends or driving a monster truck. Ride the waves with this Groupon.
Choose from Five Options
$59 for one Spectacle Island boat trip for two ($120 value)
$109 for one Spectacle Island boat trip for four ($240 value)
$149 for one Spectacle Island boat trip for six ($360 value)
$289 for one Spectacle Island boat trip for 12 ($720 value)
$499 for one Spectacle Island boat trip for 24 ($1,440 value)
During the three-hour trip to Spectacle Island, guests spend an hour on the water and two hours on the island enjoying Boston Harbor. There is a small museum, a hiking trail to the top of the island (where there are views of the harbor and outer islands), opportunities for kite flying, picnicking, and sea glass hunting, and, depending on the day, swimming. To preserve Spectacle Island's natural beauty, guests are asked to bring all trash back with them and to donate any seaglass they find to the on-site museum. The boat holds up to 24 passengers.
The Fine Print
Expires Sep 1st, 2014
Limit 5 per person, may buy 5 additional as gifts. Valid only for option purchased. Reservation required; subject to availability and weather. Must be 12 or older or accompanied by a guardian. Must sign waiver.
Join the FullDorm Team
We are always on the lookout for campus reps who share the same passion for sales, marketing, and business development as our entire team. We value every member of our team and compensate them accordingly.
Feature Your Business
If you have a product or service that you would like to offer as a Dorm Deal...
Other Great Deals Worth a Look: