$15 for Three Teeth-Whitening Pens from White Smile Central ($89.85 Value)
$15.00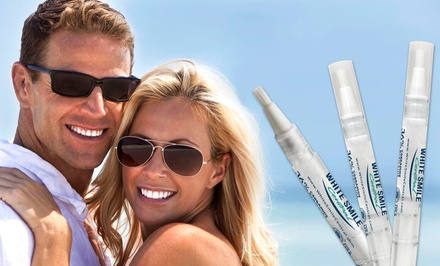 Value

$89.85
Discount

83%
Deal Ends: 03/11/2014
at midnight
Contact Info:
http://whitesmilecentral.com/
In-store or Online
265 Franklin St.
Boston,Massachusetts
02110
Here's what's up:
Having white teeth is part of the American dream, along with having two beautiful, self-sufficient toddlers. Have something to smile about with this Groupon.
The Deal
$15 for three teeth-whitening pens ($89.85 value)
Portable pens allow for quick touch-ups and on-the-go whitening
Safe, effective, dental-grade gel
36% carbamide peroxide solution
Natural gel made with organic, plant and mineral-based ingredients
The Fine Print
Expires Jun 6th, 2014
In-store or online redemption. Shipping included.
Join the FullDorm Team
We are always on the lookout for campus reps who share the same passion for sales, marketing, and business development as our entire team. We value every member of our team and compensate them accordingly.
Feature Your Business
If you have a product or service that you would like to offer as a Dorm Deal...
Other Great Deals Worth a Look: